Butt-head


Full Name:
Butt-head
Voiced by:
Mike Judge
Age:
15
Quotes:


"Shut up before I kick your ass!"

Episodes:


All
Butt-head is the more prominent leader of the duo, and
Beavis
's best friend. He's a more slower character than Beavis, and Mike Judge has noted that he appears to have just a bit of common sense while Beavis has none. Butt-head usually smacks Beavis around, and threatens him. In an episode, they nearly killed each other and Butt-head was arrested, but Beavis didn't press any charges. More will be added to the article soon.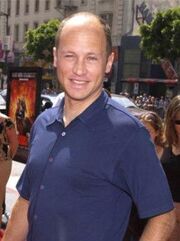 Ad blocker interference detected!
Wikia is a free-to-use site that makes money from advertising. We have a modified experience for viewers using ad blockers

Wikia is not accessible if you've made further modifications. Remove the custom ad blocker rule(s) and the page will load as expected.